Chinese diplomats think that they have been subjected to intense pressure for a long time and that the West has historically criticized them. They are constantly being schooled on the virtues and vices of the Communist system by Americans and others. Since 2008- 2009, a change has been observed in the conduct of Chinese foreign policy, known as China's wolf warrior diplomacy. It has been gradually developing, but it has accelerated since Xi Jinping took office in 2012-2013. Chinese diplomats felt the need to implement assertive foreign policy after China faced bashing from the world for the Covid-19 pandemic.
What is China's Wolf Warrior Diplomacy?
The term "wolf warrior diplomacy," which was coined for two nationalistic action films featuring a Chinese army hero battling enemies in Asia and Africa, has gained popularity outside both Beijing and Washington and spreading over Europe.
"Wolf Warrior Diplomacy" is a new diplomatic strategy that has shifted China's foreign policy from being conservative, passive, and low-profile to being proactive, assertive, and high-profile. Chinese ambassadors have historically kept a low profile communication with other nations with a great deal of caution and moderation. Recently, China has adopted assertive and confrontational diplomacy which is engaging in actions like approaching international conferences, calling out foreign colleagues, and even criticizing foreign presidents.
Origins of Wolf Warrior Diplomacy
The first Chinese movie Wolf Warrior II classified in the top 100 worldwide gross movies in 2017 was a political drama. The main character of the movie is a former special force Chinese soldier who defends Chinese citizens taking part in military operations in an unspecified African nation.
The narrative emphasizes China's active engagement in international affairs and its sense of responsibility, that China has moved from past isolationism and tolerance with the West into complete animosity and dispute. Aside from echoing the Chinese dream of the resurgence and renewal of the great power as described by Xi, the patriotic tagline of the movie "Whoever offends the Chinese will be wiped out, no matter how far away" also fueled a growing nationalist excitement in China.
Due to Beijing's harsh and combative diplomatic and media pronouncements during the COVID-19 outbreak, Western media first coined the term "Wolf Warrior Diplomacy". Beijing subsequently accepted and promoted the phrase "Wolf Warrior," despite initial denial from Chinese officials who saw it as a discursive trap designed for China.
Also, Read About China's Debt Trap Diplomacy: Reality or Myth
Top Chinese Wolf Warrior Diplomats
China's foreign ministry does not play nice as frequently as it formerly did, as Beijing sees itself as involved in a political and ideological struggle with the West. Following are the famous wolf warrior diplomats of China:
1) Wu Ken: Chinese Ambassador to Germany
When Germany was thinking about strengthening its influence over Huawei due to security issues. Wu targeted the automobile company of Germany and emphasized that China could produce its cars if German cars prove to be unsafe. Wu showed disgrace when Germany permitted a Hong Kong separatist to enter the country and meet with officials, which includes the foreign minister. It has been believed that the embassy of China in Berlin has become more assertive.
2) Lu Shaye: Chinese Ambassador to France
The wolf warrior's ultimate alpha diplomat is China's ambassador to France. His latest performance exposed Beijing's strategy to "re-educate" Taiwanese citizens after it regains control of the democratically self-governing island. The week after Nancy Pelosi, the Speaker of the US House of Representatives, visited, he made his comments to BFM TV during the height of the military crisis over Taiwan.
We will conduct re-education after the reunion, he declared. I am confident that the Taiwanese will support reunification once more at that point. They will regain their patriotism. The title of "wolf warrior" is a badge of honor for Lu.
3) Wu Hongbo: Foreign Ministry's Special Envoy for European affairs
Wu is a skilled diplomat with prior U.N. under-secretary-general experience. He formerly held the position of assistant foreign minister for Europe.
Wu is highly outspoken and assertive. The role of Wu is to meet with European diplomats in China and occasionally tour the region to demonstrate how little he cares about the Western values, political system, and democratic divisions on the Continent.
4) Gui Chongyou: Former Amabassador to Sweden
Gui was among the most aggressive Wolf Warrior diplomats in China's whole diplomatic network. His inclusion on the persona non grata list was regularly advocated by opposition politicians in Sweden.
He served as an envoy during a time of high Stockholm-Beijing tensions, which started with China's abduction of Swedish author Gui Minhai and escalated into limitations on Huawei and ZTE's ability to provide 5G infrastructure.
China's Use of Online Platforms
Wolf warrior diplomacy is using social media to spread rumors to sway public opinion around the world. Chinese officials displayed that they are aware that stimulation, not diplomacy, is what drives Twitter interaction. Over the past few months, nearly all of the tweets from Chinese embassies and personnel that have received the most attention have had antagonistic or conspiratorial content, and their most popular accounts are the most aggressive.
This new strategy, which is more assertive, appears to be functioning. Since March 2020, the diplomatic accounts of Chinese representatives on Twitter have earned nearly double the followers. China has used the state news agencies and official government websites of Venezuela, Russia, and Iran to promote anti-Western information that is broadly in line with the geopolitical interests of China with no blame and making it legitimate in the absence of its own created network of proxy influencers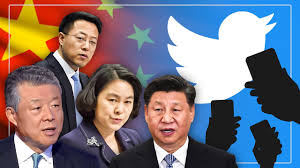 The ambassadors of China primarily support information from state-sponsored Chinese websites and publications and they utilize Western influencers and other state media as independent validation methods. Beijing's ambassadors give authorization for RT content that promotes Chinese interests on topics like technological advances, interests in the South China Sea, countermeasures against the coronavirus, and demonstrations in Hong Kong.
Other times, they actively seek out RT's attention by identifying them in posts. They merely repost RT's reporting of statements issued by other Chinese officials. Their objective appears to go beyond offering external validation and involves gaining access to a portion of the considerable viewership of RT (and other state media).
It is unclear whether opposition to the misinformation spread by China's diplomats will stop the conduct, even though China has historically been more sensitive to criticism and attribution of its actions. China is still working to stifle dissent in its domestic information environment, whether through the appropriation of independent media, control of digital distribution channels, or utilization of local social media platforms.
Also, Read About The Role of Media In Carrying Out Diplomacy
Drawbacks of Chinese Wolf Warrior Diplomacy
The wolf-warrior approach to diplomacy is already damaging the foreign policy of China because it has led to criticism, including Australia's calls for an impartial investigation into the origin of the coronavirus. China's use of soft power is already weak internationally; a combative stance will only make matters worse.
As American perceptions of China and Xi deteriorate, so do Chinese perceptions of the United States. Professor Wang Jisi of Peking University stated that sentiments toward the US among the Chinese government, media, think tanks and the general public have significantly shifted over the COVID-19 period. However, the diplomatic and informational conflicts seem to have no conclusion in view. Cooperation in the fight against the coronavirus is desperately needed but has been made very challenging by America's naming and shaming of China and China's tit-for-tat retaliation.
Also, Read About 5 Key Pillars of American Diplomacy In Action
Learn Wolf Warrior Diplomacy with the Best Diplomats
Wold warrior diplomacy is a new area of research in the field of diplomacy, recently adopted by China as an assertive and combative diplomacy to promote its national interest internationally. Now, you can learn the emerging types of diplomacy through the Best Diplomats. The Best Diplomats is an international platform, that provides excellent opportunities to learn about novel concepts and practice diplomacy at international platforms.
Register Yourself With the Best Diplomats!
Conclusion
Chinese "wolf warrior" public diplomacy makes it easier to penetrate the perimeter of the enemy by combining offense and defense. This approach has been mainly embraced by Chinese diplomats when using Twitter as a communication tool. Chinese diplomats have subtly supported the goals of Beijing by building a complicated network of content sharing with external stakeholders via Twitter's forwarding feature. This network-coordinated method of communication is also a component of the "wolf warrior" tactic, particularly when Chinese diplomats need to publicly or covertly mock other governments' inadequate or ineffectual epidemic preventive measures.
FAQs
Why China adopted the wolf warrior diplomatic practice?
Wolf warrior diplomacy is combative and confrontational using physical and online force against protesters and dissidents to promote Chinese national interest through propaganda. It rejects any perceived criticism against the Chinese government, its one-political party system, and related policies on online platforms and in interviews.
Is Twitter a tool for wolf warrior diplomacy?
Since Twitter has become so popular, the diplomats gained a voice that would not normally have been heard, now they can interact with the majority of their counterparts from other nations. As a result, social media in general, and Twitter, in particular, have grown to be crucial tools for wolf warrior diplomacy. The bulk of Chinese diplomats who use these platforms use Twitter to attract international attention.