Hybrid leadership calls for a new set of perspectives and abilities. These abilities encourage collaboration so that workers are productive no matter where they are. The COVID- 19 pandemic has transformed the workplace environment. Companies were forced to transition from an office environment to a fully hybrid workplace. This change has highlighted the need for strong hybrid leadership skills to handle the new problems of the modern era.
However, the majority of leaders struggle with the digital transition, uncertainty, and inspiring hybrid teams. Here you will find the drivers which will help you effectively lead the hybrid teams.
What Is Hybrid Leadership?
Hybrid Leadership is a form of leadership in which leaders discovers that employees can be managed and directed via virtual settings. 
Hybrid workplaces became popular during the pandemic. In some cases, a significant productivity level has been seen in the organizations. The aim of the hybrid workplace is to make a balance between both work environments which are a shared physical workplace as well as working virtually. It provides the desired flexibility to employees.
Also Read About: The Growing Concept of Remote Leadership In the Digital Era
Who Are Hybrid Leaders?
Hybrid leaders are leaders who possess diverse attributes while working either at the physical workplace or hybrid workplace such as, they are self-aware, flexible, emotionally intelligent, and conversational skilled.
Types of Hybrid Leadership
Following are the four types of hybrid leadership:
Hybrid Champions
Hybrid Strivers
Hybrid Resistors
Hybrid Laggards
1. Hybrid Champions
These leaders are the golden key to hybrid workplaces. They are growth-oriented, open-minded, and skilled at addressing people appropriately to their duties and offer the greatest leadership for a hybrid workforce.
2. Hybrid Strivers
These leaders anticipate a successful hybrid workforce in the future and have a growth-oriented mindset. However, they lack the necessary abilities to successfully manage a hybrid workforce.
3. Hybrid Resistors
These leaders possess the ability to become hybrid managers. However, due to close mindsets, they are unable to succeed. They can manage a hybrid workforce, but they don't believe their team will be successful in the hybrid environment.
4. Hybrid Laggards
These leaders have a fixed attitude and think they can understand the workforce paradigm. They reject the innovative prospects provided by the hybrid model and are not ready to be successful hybrid leaders.
Also Read About: 15 Steps That Differentiate a Doer and a Leader
Attributes of An Effective Hybrid Leader
Once a hybrid leader is confident in the attributes mentioned below, they can easily handle the hybrid team and increase productivity in the hybrid workforce environment. Following are the attributes hybrid leader must possess:
Hybrid leaders ensure that employees are using their skills efficiently and promote the internal as well as external development of employees. They provide their mentorship to all staff members equally.
Hybrid Leaders are confident and effective in virtual communication with their right skills and open mindsets. They keep in touch with all employees and are aware of their requirements. They are proactive and updated about the performance of employees.
Hybrid leaders pay more attention to performance and production and do not micromanage. They understand the responsibilities of employees and evaluate their strengths and weaknesses.
The foundation of hybrid leadership is based on trust. Successful hybrid leaders are those who succeeded in gaining the trust of their virtual teams. The best way to gain the trust of employees is to adopt the collaborative and coaching leadership style.
Hybrid leaders create spirit, purposefulness, and a sense of belonging among the team members. They provide them with a psychologically safe environment that allows them to think optimistically and share their new ideas. This leads to innovation within the organization.
4 Management Shifts for Hybrid Leadership Environment
Successful companies are taking measures to help leaders understand how to manage in a hybrid environment effectively. There are four management shifts that are beneficial for both supervisors and employees in the wake of hybrid employment:
1. Managing Performance Through Impact, Ownership, and Outcomes
It has been observed in hybrid settings that leaders shift to a higher impact and outcome. They are empowering employees to choose their own paths to outcomes and take full responsibility for them. Setting clear and measurable goals is a prerequisite, as checking in weekly or even daily to learn about obstacles and provide assistance in overcoming them.
2. Increasing Efforts to Foster Unity and Trust
For employees to be innovative and creative, trust and unity are essential. Traditional strategies like walking the office, chit-chatting at the coffee maker, or taking employees out for lunch are less common in hybrid settings. Furthermore, insecurity may also lead people to micromanage and act in a controlling manner. In order to overcome this type of situation, Leaders should actively build trust by serving as role models and motivators.
3. Engaging in Team Facilitation
In hybrid environments, a number of actions, such as turning off the camera, checking emails, or not being intellectually or emotionally present during meetings, can reduce team engagement. In addition to avoiding these issues, meeting hosts should limit the time spent there and employ participatory techniques like polls, chat, and unofficial competitions. Leaders should empower teams to create a shared vision and set of goals by delegating decision-making.
4. Promoting Group Problem-Solving
Successful hybrid leaders develop an attitude of collective problem-solving. They get involved directly, gather resources, and form teams to take on difficult challenges. Involving individuals in problem-solving improves ownership of results
Also Read About: 25 Leadership Improvement Areas for Leaders to Ponder Over
12 Ways for Leading Hybrid Teams Effectively
Hybrid leadership has gained popularity these days. Leaders are struggling with how to drive through the challenges of hybrid workplaces. Here is the leading ways which will help you become an effective hybrid leader.
1. Define Clear Rules of Engagement
When a hybrid leader makes clear norms of cooperation, all employees know what to expect and how to promote the way for productivity. For instance, team members need to understand what questions require a team meeting and which ones may be answered by email or instant chat.
Particularly, when teams are remote, leaders must be disciplined about checking in, even numerous times daily. Be sure to stick with it and be explicit and consistent about the daily routines of your team.
2. Provide the Required Tools and Setup
It is crucial for the hybrid leaders to make the appropriate setup and tool investments for the particular scenario of each team member. For example, improved Wi-Fi, headsets, and webcams for remote workers. It is also important to consider each team member's requirements.
Hybrid teams that work together, such as those focused on product development or user experience (UX), will need to find innovative ways to make sure that everyone can participate in the type of fluid, strategic dialogue which is necessary for growth.
3. Build Trust and a Sense of Belonging
When leading remotely one of the biggest problems hybrid leaders face is building trust and treating everyone with fairness and respect. Remote employees may think that they do not have access to leaders the way a daily- office-going employee has. So in order to overcome this, leaders should work to create a psychologically safe environment in remote meetings.  Leaders must purposefully involve every member of the team.  This will provide a sense of belonging. 
Also Read About: Collaborative vs Directive Leadership – Which One to Use?
4. Aware of the Practical and Personal Needs of Employees
There are two components that are essential to the success of hybrid teams; practical needs and personal needs. For practical needs, hybrid leaders and team members should jointly set ground rules for communication. This includes how they will interact and work together, taking into account the requirements of both local and remote team members.
Each team member has specific personal demands, and hybrid leaders need to be aware of these requirements and address them. The pandemic had a beneficial effect on empathic behavior and genuine concern for the well-being of each member.
5. Maintain Effective Communication
When employees are scattered, it is hard to maintain effective communication. For effective hybrid leadership, communication is the key. Hybrid leaders should use proper means of communication to avoid miscommunication usually happens via writing messages or texts. Try to maintain a one-on-one conversation while using face time applications to show soft facial expressions and appreciate employees in a way that you understand them well.
6. Create Interpersonal Communication with the Team Members
There are various ways to promote cohesive relationships among the entire staff member. For example; providing interpersonal time to each member of your team can enhance their efficiency in work. Hybrid leaders should create group calls where employees can discuss their collective tasks. Other than job-related talks, they can have small virtual coffee breaks which will help in team building.
7. Provide a Team Culture
A "Team Charter" can help leaders give their hybrid team a definite start and a team culture. The leader and members of the team reach a consensus on the goals of the team and their responsibilities, objectives, and measurements. They also establish guidelines for conversations and gatherings.
8. Make Virtual-Friendly Strategies
Hybrid leaders should deliberately think about strategies to maintain team members' connections. Physical separation shouldn't be equated with emotional and social separation. Encourage team members to ask for assistance from one another. Give credit to those who do it. Continue to support and participate in those enjoyable "virtual get-togethers" so that everyone on the team feels a connection to you and to one another.
9. Hire Hybrid Workers Wisely
While recruiting employees, look for people who are adaptable to new technologies. As hybrid working involves up-to-date online applications and software. So the employees should be result-focused, proactive, punctual, well-learned, and well-skilled. This will make working easy in the hybrid workplace environment.
10. Focus on the Mental Well-being of Employees
Where hybrid working has many benefits, it also involves a sense of isolation and loneliness due to the lack of physical interaction between employees. A hybrid leader should be conscious while working with remote staff as it is difficult to understand the struggles of employees. So, hybrid leaders should prioritize the emotional and mental well-being of hybrid employees.
11. Balance Task Allocation Among Employees
Hybrid leaders should allocate responsibilities and tasks equally among employees. One employee should not be burdened with tasks. They should also pay attention while providing resources and facilities. This balance will give a sense of equal responsibility to all employees.
12. Encourage Team Conflict Resolution
It is easy to resolve conflicts in traditional settings, while in hybrid workplaces interpreting conflict and managing them is an important task for hybrid leaders. Hybrid leaders should aware of the problems faced by the employees while performing tasks. When conflict occurs, hybrid leaders should give a proactive response to employees. They should involve employees in conflict management, this will give them confidence and will feel valued in an organization.
Challenges of Hybrid Leadership
While hybrid leadership is very effective in the modern digital world, at the same time it is posing few challenges to hybrid leaders. Following are the challenges faced by hybrid leaders are:
1. Virtual Team Building
Hybrid work is efficient when working from home but there is less opportunity for employees to develop strong bonds and a sense of trust. It may also result in feelings of isolation and loneliness. Hybrid leadership should encourage frequent digital or actual encounters. Hybrid leaders should pair new team members with work buddies. This helps in building connections and strong team building
2. Creating a Remote Compatible Culture
The hybrid work environment is a modern phenomenon for most organizations, and most of them find it difficult to maintain. Each employee perceives job flexibility differently. Virtually understanding the needs of each employee is a difficult job. Organizations should put in more effort to foster a culture that is remote-friendly. Organizations can demonstrate their success by mentioning examples of effective hybrid cultures. This will significantly improve people's perceptions of hybrid cultures.
3. Lack of Effectiveness and Collaboration
Some leaders are skeptical of the effectiveness of the hybrid work paradigm because they fail to see the possible benefits. Due to the lack of teamwork and isolation, some people discourage hybrid work schedules. Closed mindsets present a significant challenge to a hybrid workforce environment. Hybrid Leaders should promote collaboration to solve this difficulty among employees.
Also Read About: Significance of Collaborative Leadership in a Digital Era
4. Maintain Connection between Office and Home
The current team dynamic has been even more complicated by effectively managing a hybrid workforce. Increasing team communication can streamline some procedures. A hybrid workplace must have effective communication tools that all employees may use and access from any location. Free versions frequently have restricted availability and usability. A hybrid leader should use task management tools to ensure an organized, updated, and accountable workforce.
5. Balancing Task Distribution
In a hybrid workforce environment, workers working from home experience inequality or indifference as a result of their physical absence. To ensure that everyone has an equal opportunity to participate in meetings, it is crucial to maintain a balance. Hybrid leaders should use balance when assigning resources, initiatives, and tasks.
Learn Hybrid Leadership with Best Diplomats
The challenges of hybrid leadership can not be overseen in remote workplaces. Hybrid workplaces can be more productive if leaders know how to lead people effectively. Best Diplomats is helping people in understanding the concept of hybrid workplaces by providing excellent opportunities.
Register Yourself Now With Best Diplomats!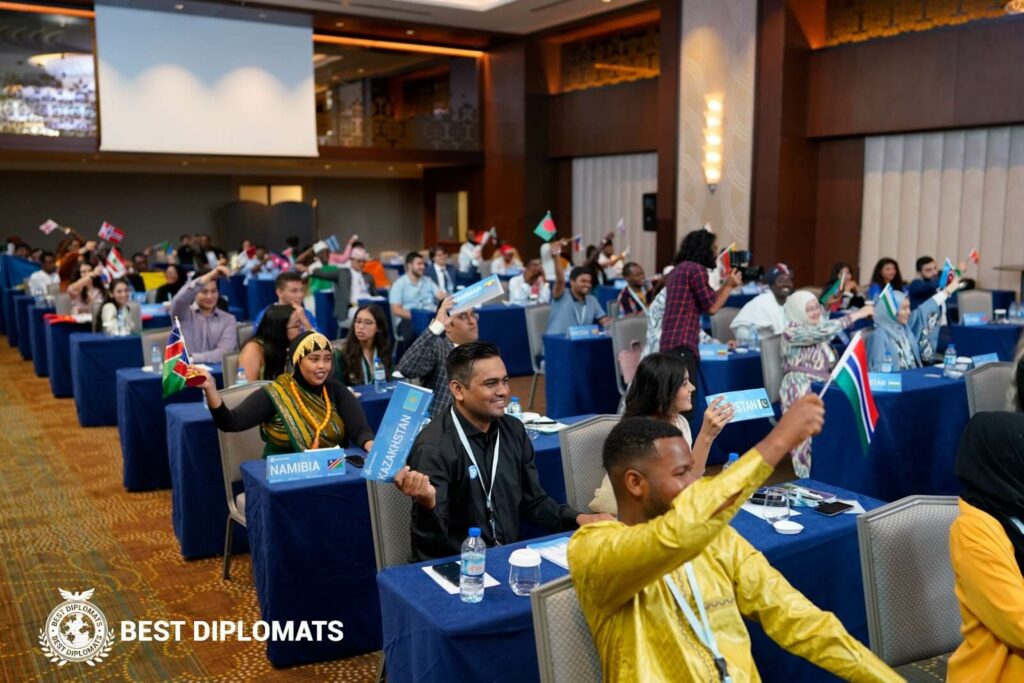 Conclusion
Many companies are striving to find answers to the questions about this present work environment raised in the aftermath of the pandemic. Many workers claim they enjoy working remotely, but the lack of physical interactions gives them demotivation. Hybrid teams are more complex than a purely remote team, it is the responsibility of leaders to come up with creative solutions that will make hybrid teams happy and productive. Pay close attention to your team members and keep looking for creative solutions to deal with their particular situations.
 FAQs
What is the biggest challenge in hybrid leadership?
Hybrid leaders face a few challenges while working with remote teams, such as, providing them with the right technology, making a collaborative environment, and maintaining workplace culture.
What are the five ways to motivate a hybrid team? 
A hybrid leader can motivate a workforce by prioritizing work from any part of the world model, showing flexibility towards employees, building trust, boosting morale, and capitalizing on a global impact. 
Which is better? A physical workplace or Hybrid Workplace.
Both physical and hybrid workplaces have benefits and challenges. Where a physical workplace is better for physical interactions, at the same time an employee can interact with others from sitting miles away from each other in a hybrid setting. In today's world, both are important as per the requirement of the organization. 
What are the disadvantages of the hybrid workplace?
There are a few disadvantages of hybrid working such as, it is difficult to collaborate with remote teams, to keep up with hybrid schedules, employees can burn out faster and it is not suitable for all organizations.
What are the pillars of successful hybrid working?
Following are the four pillars of successful hybrid working: provide flexible timing, create processes in favor of remote workers, avoid micromanagement and show active availability.